Samuel Ferguson and his wife, Mary Jameson
Samuel Ferguson was born March 3, 1744 an died February 12, 1825 in Cabell County, WV. (That part which is now Wayne County). He married Mary Jameson , who according to bible records, was born March 21, 1746 and died September 21, 1827. (The monument reads 3/27/1746-9/27/1827.)

It is believed that Samuel came to the colonies with a cousin, Patrick Ferguson, in 1765. Both were British soldiers, but Samuel sympathized with the colonies. Major Patrick Ferguson, of the British Army, was killed at the Battle of King's Mountain. It is known that Samuel also fought there for the colonies.

Samuel is first recorded in Augusta County, Virginia, where he bought land on August 21, 1765. (Chronicles of the Scotch-Irish Settlements in Virginia - Chalkey). Samuel, along with Capt. Moore & Peerys, was at the battle of Alamance May 16, 1771. (New River Settlements - David E. Johnson). Samuel settled on Bluestone Creek, Tazewell County, VA. in 1772. (Annals of Southwest Virginia 1769-1800 - Lewis Preston Summers). He remained there until he moved to present Wayne County, WV about 1804.

Samuel appears in the Auditor's Accounts for Dunmore's War, as having furnished one hog. He swore allegiance to the United States on September 30, 1777 from Montgomery County, VA. (Revolutionary War Book, Montgomery County CH). Samuel was at the Battle of King's Mountain, South Carolina with Thomas Peery, William Peery and John Peery on October 7, 1780. (History of The Middle New River Settlements - David E. Johnston). He was appointed Ensign in Capt. James Moore's Company of Montgomery County, Virginia Militia on April 3, 1781. (Annals of Southwest Virginia - Summers).

Samuel appears on the Montgomery County, VA tax lists of both 1782 and 1789. In 1793 he is listed on the tax list of Wythe County. He is recorded as having purchased land there in 1796. In 1802 he is recorded in a land purchase in Tazewell County. Sometime in 1804 Samuel brought his family to Kanawha County, Virginia (now Wayne County, WV) where he was among the first settlers in what is now Union District of WC. At his death, Samuel's home was on the land where his monument now stands.

I believe that most of the places of abode for Samuel, listed above in Virginia, were basically in the same area, only changing when new counties were formed.

The History of the Samuel Ferguson family is further documented in a book entitled "Ferguson Family Genealogical History of Wayne County, West Virginia" by Evelyn Massie, a local author. Library of Congress Catalog Card Number: 85-61178

Samuel & Mary's monument is in very good condition and easily readable. It is located on his old farm on Craig Road, just outside the Town of Wayne. Go down Craig road until you come to the first railroad crossing. There is a little dirt road which turns left off from Craig Road just before it crosses the railroad tracks. That is an old timber haul road, accessible by 4 wheel drive. One would travel less than 100 yards up this road and turn sharply down the point. The gravesite is some 100 feet below the haul road. The area is generally clear, often grown up with weeds but no heavy brush. The property is now owned by Ivolese Frazier, who is a direct descendant of Samuel & Mary.


DEDICATION AND UNVEILING OF REVOLUTIONARY
WAR SOLDIER MARKER FOR
SAMUEL FERGUSON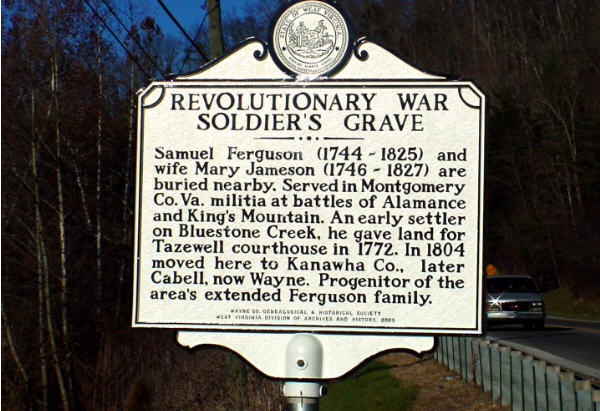 On December 10, 2005, the Wayne County Genealogical And Historical Society held a dedication service honoring Revolutionary War Soldier Samuel Ferguson. Past President of the Society, Herbert Dawson served as Master of Ceremonies. The service began with the posting of the Colors by American Legion Post 89 and Veterans Of Foreign Wars Post 6103. Then the Pledge of Allegiance was led by Society Vice President James Goode, followed by the singing of the National Anthem. Emanuel Ferguson gave the invocation, followed by welcoming remarks by Jamie Ferguson, Clerk of The Circuit Court of Wayne County. James Booton, member of the Wayne County Commission then introduced dignitaries attending, followed by introduction of Society Officers by James Goode.

A lengthy and interesting talk about the life of Samuel Ferguson was then given by Steven Lewis. Steven is the Family Law Master of Wayne County and a long time researcher of history and genealogy. This was followed by the audience singing America The Beautiful, after which the dedication services closed with the benediction by Fred Ferguson.

Following the dedication service, the unveiling of the roadside marker took place, with Howard Osburn and James Booton removing the covering from the sign. Then the Honor Guard performed a twenty one gun salute, followed by the playing of Taps.

Our appreciation to Dewey Johnson and his staff at the Johnson-Nichols Funeral Home for their assistance. The roadside marker was erected almost in front of the Funeral Home. During erection, Dewey came to watch with much interest. He then asked us about the program, and since it was going to be in mid December, Dewey offered the use of the Funeral Home facilities to assure we would not be out in the weather.

A reception was held at the Society Library after the completion of the ceremony, with several attending. Thanks to all who attended and supported our Society.

Below are some photos of the program.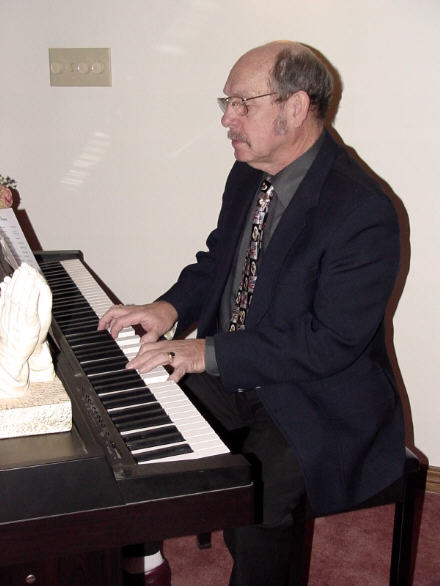 Herb Dawson
Master of Seremonies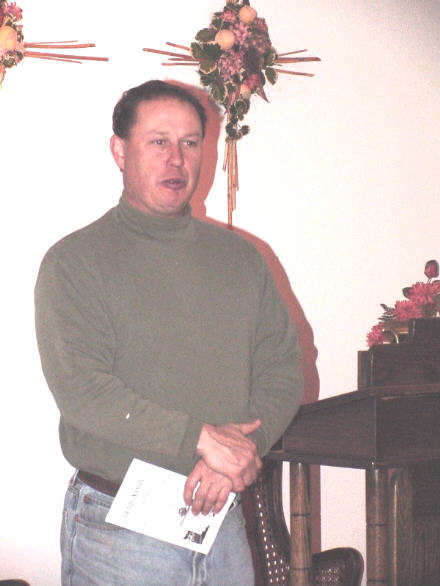 Jamie Ferguson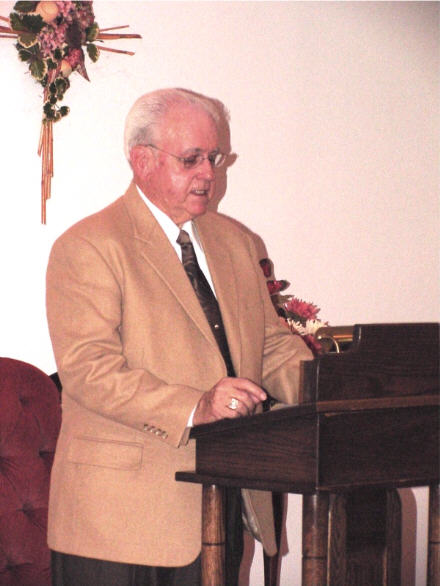 James Booton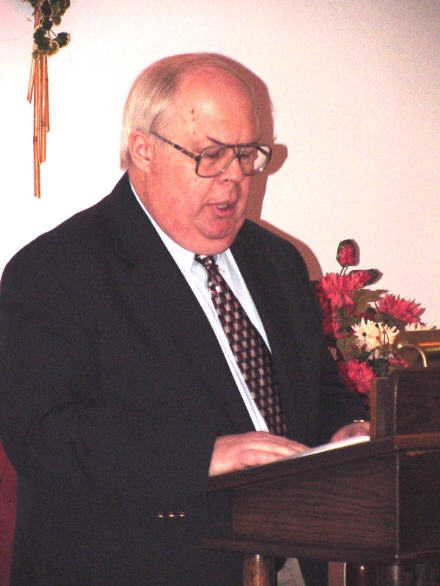 James Lewis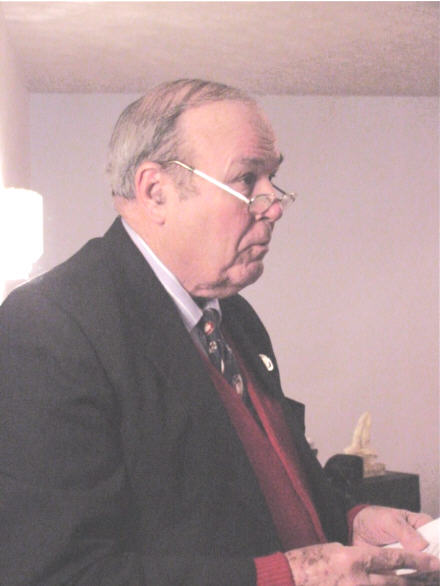 James Goode introducing
the Society Officers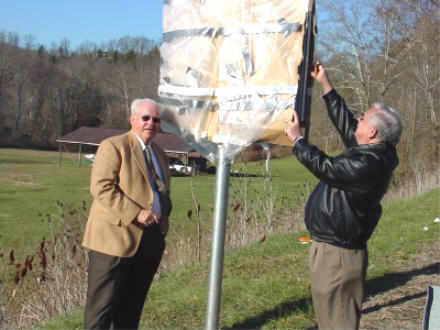 Jim Booton and Howard Osburn
unveiling the Marker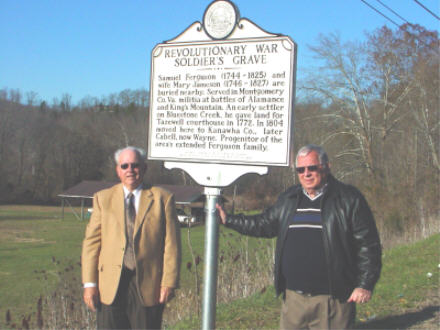 Marker Unveiled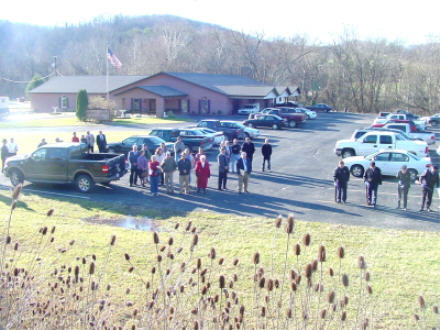 Crowd Watches Unveiling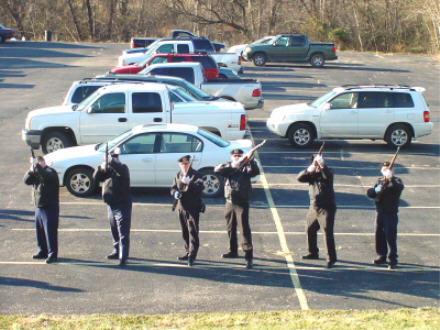 Honor Guard Twenty One Gun Salute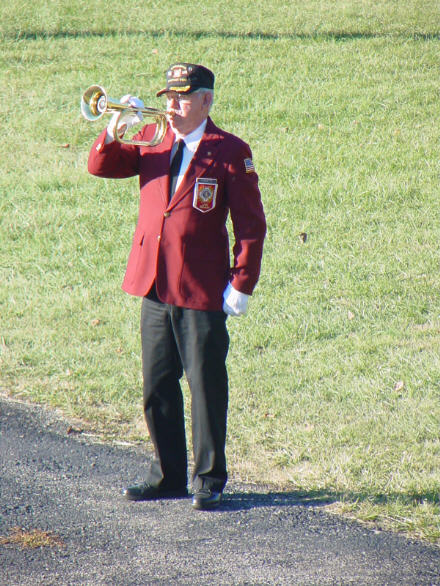 Playing Taps completed the program