Wayne Cemetery Volume One
If you have questions concerning this cemetery book, or would like ordering information , please send us an E-Mail and we will reply to your message. Cemetery book 1 is priced at $23 postage paid. To order make check payable to WCGHS and mail to WCGHS, P.O. Box 787, Wayne, WV 25570. We will mail promptly upon receipt of payment.
Carl Marcum at the grave of his ancestor, Revolutionary War Soldier, Josiah Marcum.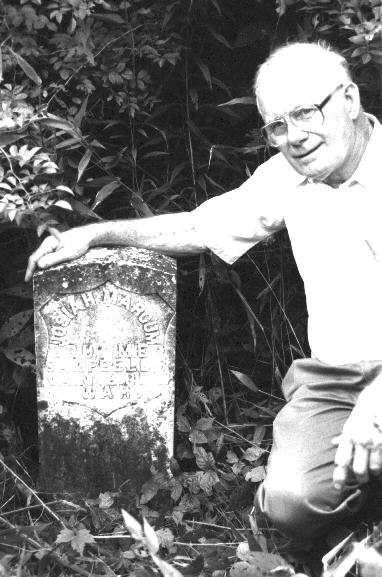 Pictured is the old section of the Elmwood Cemetery, located just East of Wayne, West Virginia on State Route 37.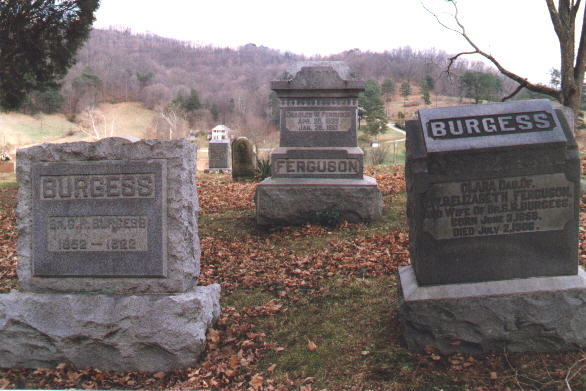 One of Wayne County's oldest cemeteries, the Vinson Cemetery located on Tolsia Highway south of Nursery Gap.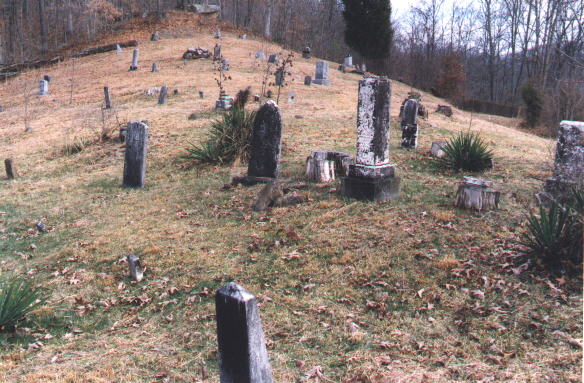 A general view of the Elmwood Cemetery located on Route 37, just East of Wayne, West Virginia. This cemetery had it's beginning as a family cemetery for the Ferguson family.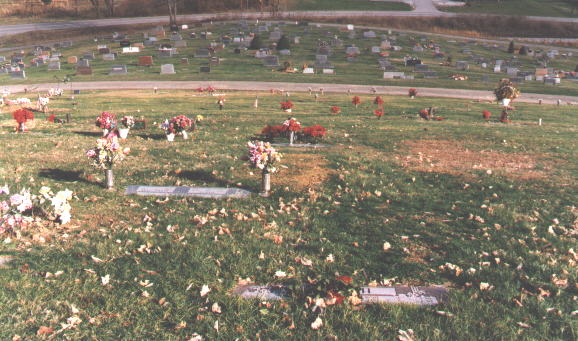 This is the tombstone of the Progenitor of the Ferguson family of Wayne County, Samuel Ferguson (3/3/1744-2/12/1825) and his wife Mary Jameson (3/21/1746-9/21/1827). This monument is located on Craig (Creig) Road, about a mile below the town of Wayne.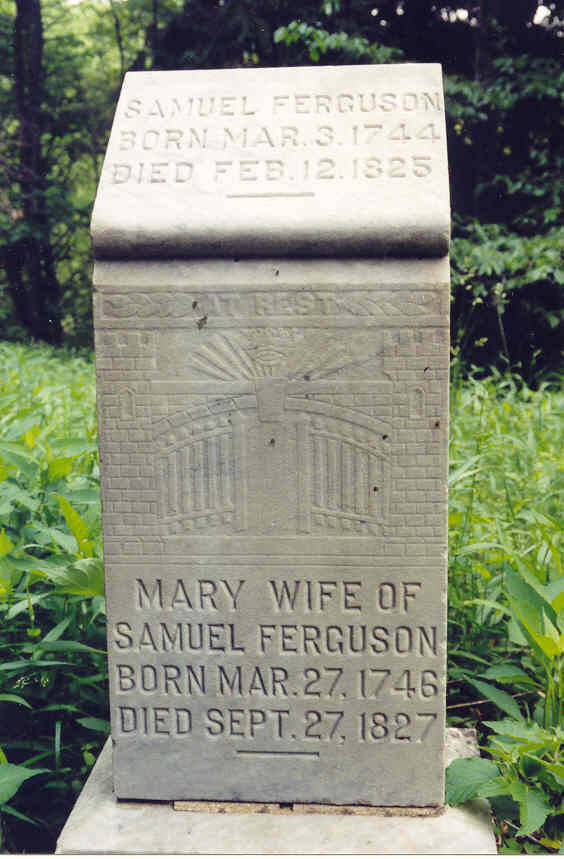 The Lambert Mills Cemetery, located near the head of Two Mile Creek in Wayne County, West Virginia.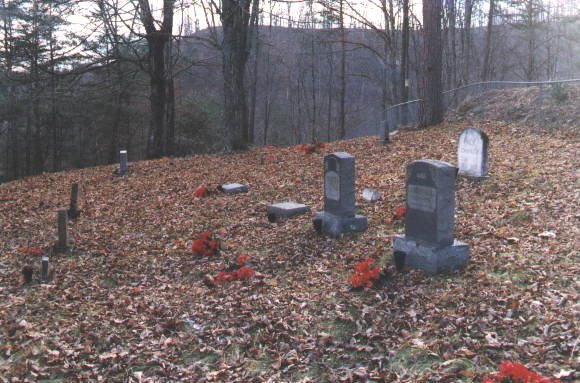 The Wayne Cemetery, located across the highway from the old Wayne Graded School in the Town of Wayne, West Virginia. The land was donated by Attison Adkins, and is a very old cemetery.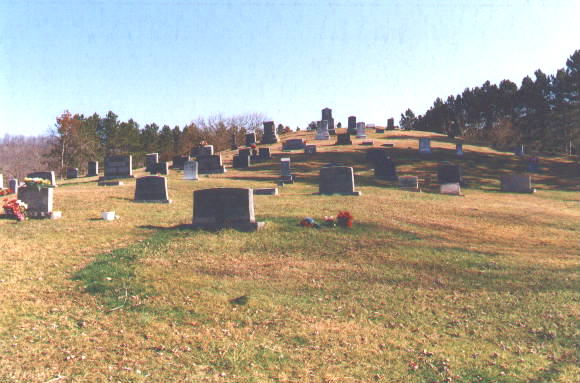 The tombstone of Thomas Franklin Napier and his wife, Haney Smith. Thomas was an early educator in Wayne County. This gravesite is located near the head of Big Lynn Creek, just off Napier Ridge, in Wayne County, West Virginia.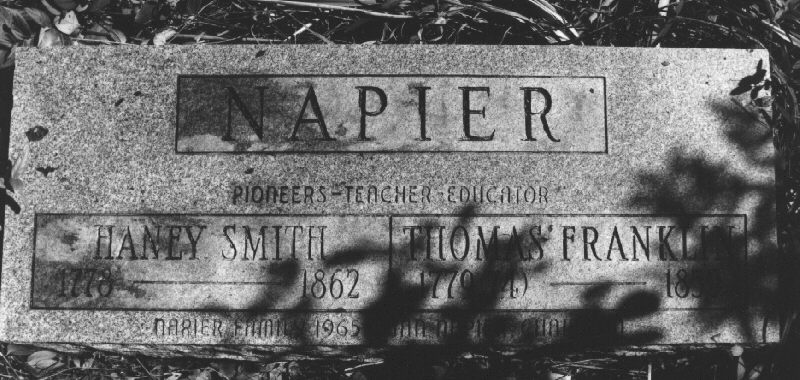 TABLE OF CONTENTS
Adams Cemetery- Genoa
Artrip Cemetery- Artrip Branch, Rt. 37
Barbour Cemetery- Bowman Hill, 8th. St. Road
Barbour Cemetery- Head of Dunkle Branch
Bartram Cemetery- Doss Hill Road
Bartram/Crabtree Cemetery- Greenbier Creek
Bean, John Tucker Cemetery- Prichard
Berbage/Stepp Cemetery- Jennie's Creek
Berry Cemetery- Left Fork of Big Hurricane Creek
Blackburn Cemetery- Tripp Bend River Road
Blair Cemetery- German Ridge Road
Cassady Cemetery- Hickory Gap Road
Chatterton Cemetery- Bowman Hill Road
Childers Cemetery- Fisher Bowen Road
Coburn Cemetery- Bowman Hill Road
Collins Cemetery- Cove Gap
Cook Cemetery- Right Fork of Mill Creek
Copley/Anderson Cemetery- Jennie's Creek
Copley/Pack Cemetery- Head of Paddle Creek
Crabtree Cemetery- Jct. Rt. 52 & Rt. 37
Crabtree/Thompson Cemetery- Rt. 37 Toward Ft. Gay
Crum Cemetery- Vinson Branch
Crum Cemetery- Above Tunnel at Tripp
Crum, Eli Cemetery- River Bend Road
Crum, Hobart Cemetery- Cabwaylingo State Forest
Crum, Joel Cemetery- Cotton Hill Road
Curry Cemetery- Mouth of Burchett Branch
Cyrus Cemetery- Old Meeting House Road
Cyrus/Webb Cemetery- Old Meeting House Road
Damron Cemetery- Right Fork of Mill Creek Area
Damron Cemetery- Watts Ridge
Damron Cemetery- Stonecoal
Damron, Bert E. Cemetery- Old N&W R.R. Rt.152
Damron, Lucian Cemetery- Old N&W R.R. Rt.152
Damron ,Thomas Cemetery- Watts Ridge
Davis Cemetery- Left Fork of Bull Creek
Dearnell Cemetery- Stonecoal
Dillon Cemetery- Going up Uncle Billy
Dyer, Sam Cemetery- Cove Gap
Ferguson Cemetery- Jct. Rt.52 & Rt.
Ferguson Cemetery- Horse Farm, Gragston Creek
Ferguson, John Cemetery- Rt. 37, Bottom Crabtree Hill
Ferguson, Samuel Cemetery- Cyrus Farm, Craig Road
First Turkey Creek Cemetery
Fletcher Cemetery Jennie's Creek
Foster Cemetery- Foster Branch, Rt. 37
Frazier Cemetery- Beside Raines Cem. Off Tolsia Highway
Fuller Cemetery- Hitchcock Knob
Greasey Ridge Cemetery- Coal Haul Road, Cabwaylingo State Park
Hall, Andy Cemetery
Hardwick Cemetery- Bromley Ridge
Hardwick/Ramey Cemetery- Bromley Ridge
Harless Cemetery- Watts Ridge, Genoa
Harris Cemetery- Jennie's Creek
Hatten Cemetery- Gragston Creek
Hatten Cemetery- Lower Gragston Creek
Hedgco Cemetery- German Ridge
Herald Cemetery- Jennie's Creek
Hollandsworth Cemetery- Coal Haul Road, Cabwaylingo State Park
Irby Cemetery- Bowman Hill-Mt Union
Jackson Cemetery- Lambert Branch Road
Jackson Cemetery- On Twelvepole Creek, Above Echo
Jarrell Cemetery- Right Fork of Mill Creek
Johnson Cemetery- Cotton Hill Road
Jude Cemetery- Greenbier Creek Road
Jude, John J. Cemetery- Greenbier Creek Road
Kilgore Cemetery- German Ridge
Little Cemetery- Silver Creek
Little Cemetery- Crum Hollow
Livisay Cemetery- Apperson Street, Ft. Gay
Lycan Cemetery- Bromley Ridge
Marcum Cemetery- Watts Ridge
Marcum Cemetery- Stonecoal
Marcum, Albert Cemetery- Rt. 52, Bull Creek




Marcum, James Cemetery- Cotton Hill Road
Marcum, Josiah Cemetery- Jennie's Creek
Marcum, Manerva- Cemetery Left Fork of Bull Creek
Mathew's Cemetery- Licklog
Maynard Cemetery- Tick Ridge
Maynard Cemetery- Rt. 152, South of Wayne
Maynard, Edgar Cemetery- Left Fork of Big Lynn Creek
Meade Cemetery- Radnor, Across bridge
Meade, Aaron Meade Cemetery- Dunlow
Meade Cemetery- Stonecoal
Meade, Roger Cemetery
Mckee Cemetery- German Ridge
Messer Cemetery- Stonecoal
Mills Cemetery- Edd's Branch, Peter Cave
Napier Cemetery- Head of Grassey, Right Fork of Mill Creek
Newman Cemetery- Gragston
Osburn, John Thomas Cemetery- Wolf Creek Road
Parsley, John B. Cemetery- Webb Quadangle
Perdue Cemetery- Big Creek, Wayne
Perry, I.V. Cemetery- Cotton Hill Road
Perry Cemetery- Watts Ridge, Genoa
Pertee Cemetery- Bull Creek, Rt.52
Peters (Artrip) Cemetery- Spruce Creek, Rt. 37
Plymale Cemetery- Malcolm Lane, Rt.75
Porter Cemetery- Watts Ridge, Beside Pratt Cem.
Pratt Cemetery- Watts Ridge, Beside Porter Cem.
Preston, Thomas Cemetery- Mouth of Licklog, Rt. 152
Prince Cemetery- Rt. 52, Bull Creek
Raines Cemetery- Tolsia, Across From Paddle Creek
Ratcliff Cemetery- Rt. 75, Trailer Park
Ratcliff Cemetery- Bromley Ridge
Rickman Cemetery- Right Fork of Camp Creek,8th St. Road
Riggs Cemetery- Head of Joels Branch
Robertson Cemetery- Tark Hill Road, Rt. 37
Robertson/Vaughan Cemetery- Across Hill From JJJ Farm, On Greenbrier Creek
Ross Cemetery- Kiahsville
Rowe Cemetery- Apperson Street, Fort Gay
Salmon Cemetery- Webb
Salmon Cemetery- Stonecoal
Salmon Cemetery- Right Fork of Bull Creek
Salmons/Marcum Cemetery- Left Fork of Bull Creek
Sammons/ Williamson- Cemetery Crum-Webb Road
Scott Cemetery- Doss Hill Road
Smith Cemetery- Prichard
Smith Cemetery- Grassey, Napier's Ridge
Smith Cemetery- Centerville
Smith Cemetery- Centerville
Snow Cemetery- Watts Ridge
Spaulding Cemetery- Jack Fork of Turkey Creek
Spears Cemetery- Salt Peter
Spence, Wade Cemetery- Lycan's Ridge
Stepp/Mollett Cemetery- Stepptown
Stevens Cemetery- River Bend Road
Swathwood Cemetery- Greenbier Creek Road
Thompson Cemetery- Bowman Hill- Mt Union
Thompson Cemetery- Genoa Hill, Toward Mill Creek
Thompson Cemetery- Old Meeting House Road
Vaughan/Mills Cemetery- Edd's Branch, Peter Cave
Vinson Cemetery- Jct. Rt. 37 & Rt. 52
Vinson Cemetery- Glenhayes
Walker Cemetery- Rt. 152- Drift Creek
Watts Cemetery- Watts Ridge
Watts/Napier Cemetery- Napier's Ridge
Webb Cemetery- Tolsia Hwy. Across From Paddle Creek
Webb Cemetery- Old Meeting House Road
Webb Cemetery- Sulphur Springs Road
White Cemetery- Dunlow, Across Twelvepole
Williams Cemetery- Turkey Creek
Williamson Cemetery- Behind Old Wayne High School
Wilson Cemetery- Hickory Gap Road
Wilson Cemetery- Genoa Hill, toward Mill Creek
Wilson Cemetery- Bromley Ridge
Workman Cemetery- Right Fork of Mill Creek